Having money does not guarantee the opportunity to own
Currently, luxury houses and apartments in Da Nang are increasingly attractive to investors, especially in the central area, which is also said to be a bright spot when launched projects are all "sold out".
This is explained by the fact that Vietnam is on the rise with a high economic growth rate, in particular in 2018 reaching a record of 7.08%. Economic development leads to an increase in people's income, thereby creating a great demand for high-end real estate. Besides, the super-rich in Vietnam is experiencing a sudden increase, which is one of the reasons why the luxury real estate line in Da Nang has exploded in recent times. According to the Wealth-X research firm on the growth rate of the world's super-rich, Vietnam holds the third position with an annual growth rate of 12.7%, just behind China (13.4%). and Bangladesh (17.3%).
In addition, the attraction of luxury real estate in Da Nang is also explained by the profitability of the product. CBRE Vietnam's record shows that the segment of townhouses and luxury villas in Da Nang has a rental value of 3-6%/year, especially the most popular level is 4-5%/year. year.
Another investment method that is also extremely popular today for houses and luxury apartments in Da Nang is to accumulate or resell, exploiting profits on capital. This is an investment channel that promises a higher profit margin than bank interest rates, or if it is aimed at commercial exploitation, it can earn a minimum cash flow of 3-4%/year.
With great value-adding potential, the luxury real estate segment in Da Nang is an investment channel chosen by many customers. However, trading in this segment recently is no longer easy due to the shortage of supply.
Statistics of the Real Estate Brokers Association show that in the fourth quarter of 2018, there were almost no high-end projects offered for sale in Da Nang, apart from some land plots located far from the city center. The products traded are mostly from projects that have been offered for sale in previous quarters.
Thus, strong financial potential does not guarantee the opportunity to own luxury real estate in the most livable city in Vietnam. The investors even have the "power" to choose "qualified" residents, in line with the design philosophy and civilized and upper-class lifestyle that the project is aiming for.
Experts say that the formation of luxury projects in Da Nang not only quenches the thirst for housing for successful residents with high status in society, but also serves as a new symbol, contributing to the success of the community. in changing the face of a young and dynamic city like Da Nang, similar to the development lesson of Shanghai (China) more than a decade ago.
Attracting foreign investors
Not only domestic investors, foreigners are also looking for opportunities to invest in luxury real estate in Da Nang, especially since the Da Nang Department of Construction announced 17 projects allowing foreign individuals and organizations to invest in luxury real estate. out of ownership. Among them, the most popular are from countries and regions such as Taiwan (China), Hong Kong (China), Singapore, South Korea and Japan.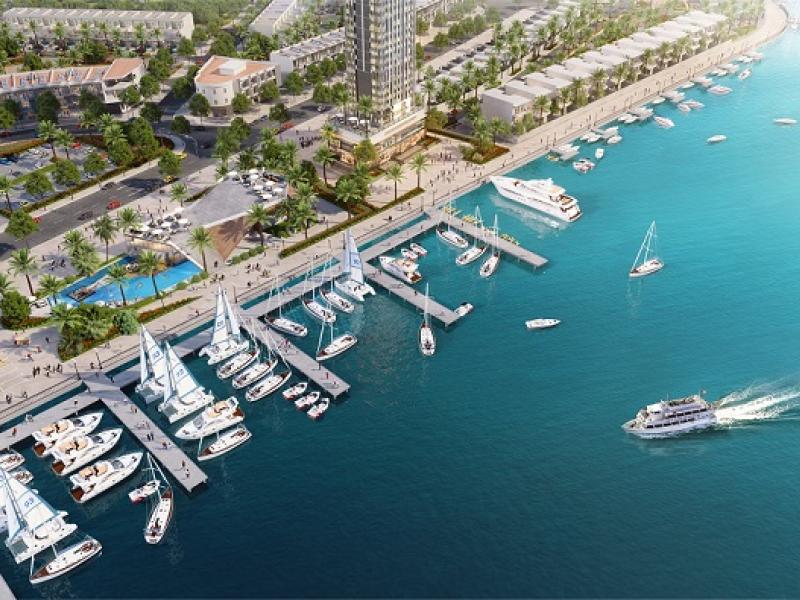 According to market research units, high-end projects in Da Nang are attracting the attention of international investors more strongly than ever. They are willing to "pocket" into luxury real estate products in Da Nang because the price is competitive compared to the big cities of the countries in the region.
Specifically, the average price of houses and luxury apartments in Da Nang is about 3,500 – 5,500 USD/m2, while in big cities of Taiwan or Hong Kong, this price is 5 times higher. . In Singapore, penthouses in the central area cost tens of millions of dollars.
Proof of this excitement is the fact that the number of foreign guests always occupies all the "room" reserved for foreign investors in high-end projects, meeting the standards of reputable investors in recent years. Experts summarize the main reasons why luxury real estate in Da Nang attracts foreign investors, besides the potential price increase of the luxury segment, high rental yield and competitive prices. Another reason is lower taxes in other countries.
With these positive signals, experts say that Da Nang luxury real estate will shine in 2019. This is the segment that takes on the role of leading the market and is a "magnet" to attract investment capital. private.
Thuy Trieu