INVESTMENT FOR DOMINICA CITIZENSHIP – LEVEL OF INVESTMENT WITH MULTIPLE BENEFITS OF BEING A CITIZEN
" Dubbed the paradise of the Caribbean because the island is like a miniature paradise garden with lush and lively tropical gardens. Dominica's Morne Trois Pitons National Park is one of the UNESCO World Heritage Sites. The government here focuses on developing the country with a natural and sustainable ecosystem. Dominica is one of the paradise islands of the elite with endless beautiful beaches. "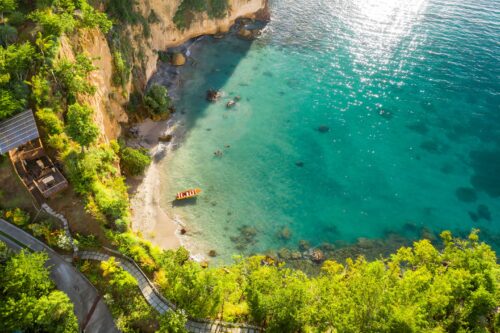 BENEFIT
Quick processing time, within
Low investment costs (in the form of contributions to the government)
Citizenship is granted for 4 generations 

including dependent children under 30 years old and the applicant's parents and grandparents; the applicant's brother/sister or the applicant's spouse is 18-25 years old;

Visa-free access to more than 140 countries around the world including 26 countries in the bloc Schengen, United Kingdom, Korea, Hong Kong, etc… li>
Allows dual citizenship and no global income tax, no personal income tax, inheritance tax, property tax ….</strong >
The registration process is secure and no need to go to Dominica.
IMPORTANT CITIZENS WITH STANDARD "2 NO"
No requires proof of assets
No requirement or obligation to live before and after citizenship
EDUCATE
Free education through high school.
MEDICAL
The Dominican Republic has a system of free public hospitals and clinics
ECONOMY
Dominica is one of the most developed countries in the Caribbean. Despite production, sugar is a traditional industry, but now nickel and iron have become the main export commodity Dominica is the leading country in Latin America and 5th in the world for mining yellow; power production reached 6.7 billion kWh, consuming 6.7 billion kWh. Tourism is the industry that earns the most foreign currency; exports reached 1 billion USD, imports reached 3.6 billion USD, foreign debt: 3.6 billion USD. Products from plants industrial (cane , coffee, cocoa, tobacco) and nickel is the main export source of the island. The establishment of about 40 industrial export processing zones and the development of the industry tourism creating a background economics Undeniable dynamic receive. However, living standards are still low, inflation is high, and the economy is highly dependent on USA.
HABITAT
Dubbed the paradise of the Caribbean because the island is like a miniature paradise garden with lush and lively tropical gardens.