INVESTMENT ST.KITTS & NEVIS
"St. Kitts & Nevis, officially the Federation of Saint Kitts & Nevis, is a country of two islands in the Caribbean. With beautiful beaches, good health care, low crime rates and With quality infrastructure, Saint Kitts & Nevis is one of the fastest growing economies in the Caribbean."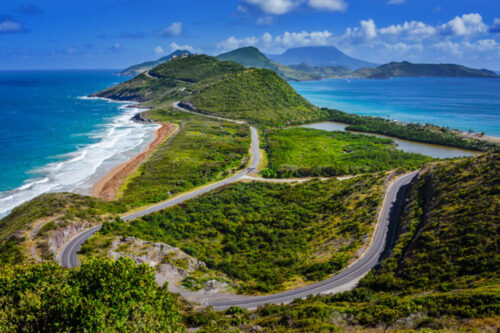 BENEFIT
Quick processing time, within 3-4 months
Low investment costs (in the form of contributions to the government)
Citizenship is granted to 4 generations including: dependent children under 31 years of age and the applicant's parents and grandparents; the applicant's brother/sister or the applicant's spouse is 18-30 years old;
Visa-free access to more than 157 countries around the world including 26 countries in the bloc Schengen, United Kingdom, Korea, Hong Kong etc. li>
Allows dual citizenship and no global income tax, no personal income tax, inheritance tax, wealth tax …
Registration process is secure and no need to go

Kitts & Nevis
EASY IMPORTING CITY WITH STANDARDS
"2 NO"
No requires proof of assets
No requirement or obligation to live before and after citizenship
EDUCATION
Chương trình giáo dục miễn phí đến hết bậc trung học.
MEDICAL
Medical care in St. Kitts & Nevis is limited, but still very satisfactory. There are three hospitals on the island of St. Kitts and a hospital on Nevis Island. There are many clinics on both islands. For those who are seriously ill or injured, you will be taken to the United States or another island for treatment.
You can buy health insurance on the island, but most expats who live here for a season or a short period of time prefer to buy travel insurance that already includes medical insurance. Make sure your travel insurance also includes Emergency Transportation.
TAX SYSTEM
St. Kitts & Nevis is seen as an attractive tax haven for many individuals and corporations. In this island nation, there is no net wealth tax, sales tax, and property tax. There is still a corporate income tax and it only applies to domestic businesses doing business with island residents. Corporate income tax is at 35%.
HABITAL
The landscape of the island is tropical, with beaches and volcanoes. The climate is tropical, with an average during the cold months of 25°C and 28°C on average and warmer months. This is the climate for those who want to relax by the beach, sail, hike, or attend exciting outdoor festivals.
Ecotourism and hiking are typical features in this country, because of the favorable landscape and climate, traveling between islands, spending time outdoors is often done at the wire.