PRODUCT INFORMATION
Located in the heart of the beautiful Sea city, belonging to Ngu Hanh Son District, which is chosen by Da Nang as an area where the population lives, with ecological urban areas, cultural and entertainment tourism centers. Full service facilities around. Nam Viet A ecological urban area fully converges outstanding advantages from location, landscape to design and environment, creating a very special attraction to customers, investors inside and outside Da Nang. .
Project name: Southern Tuyen Son Bridge Ecological Urban Area (Nam Viet A)
Project location: Khue My Ward – Ngu Hanh Son District – Da Nang City.
Total area: 704.105m2.
Total project investment: 548,468,968,000 VND.
Investor: Nam Viet A Infrastructure Development and Construction Investment Joint Stock Company
Form: Construction of an ecological urban area.
Vị trí thuận lợi bên cạnh con đường lớn với các trung tâm thương mại, nhà hàng, cửa hàng, và siêu thị thực phẩm.
LOCATION SOUTH VIETNAM DA NANG
Nam Viet A urban area owns a central location with advantages that any real estate project dreams of
The East borders the famous My Khe beach and the main street Le Van Hien of the city, easily connecting to Hoi An Ancient Town and coastal tourist areas.
In addition, Nam Viet Asia urban area is located next to Tuyen Son bridge, one of the most important traffic bridges in Da Nang city, helping to quickly connect to the international airport and Da Nang administrative center easily. easy.
East direction: Adjacent to the sea, My Khe beach and high-class resorts.
West direction: Adjacent to Da Nang Airport, Universities and big supermarkets such as Lotte, Metro.
South direction: Adjacent to 600-bed hospital, Ngu Hanh Son mountain, Hoi An ancient town.
North direction: Administrative center and city public services, Dragon Bridge, Song Han Bridge, Thuan Phuoc Bridge.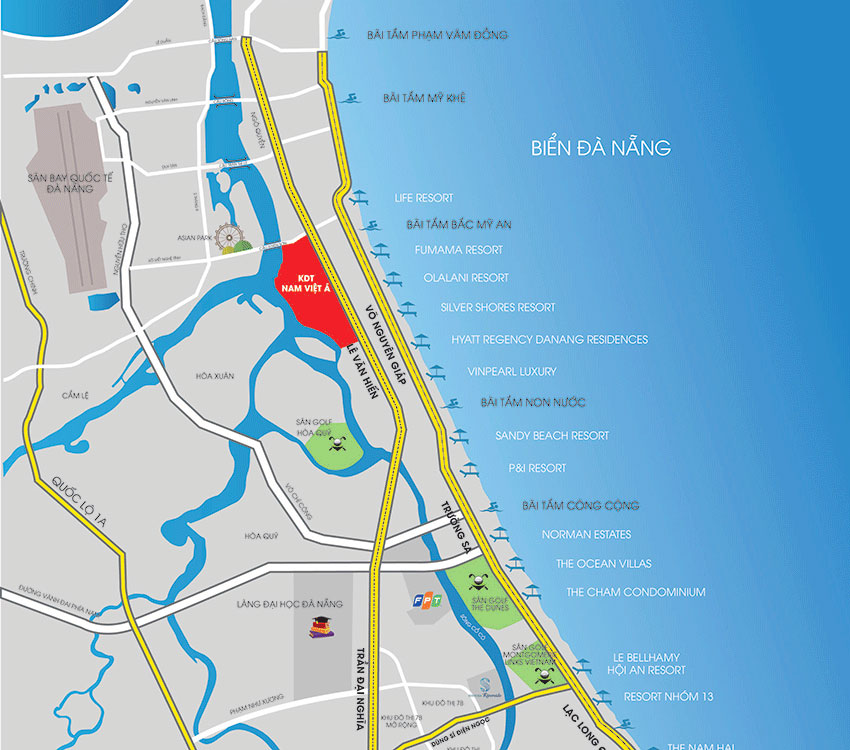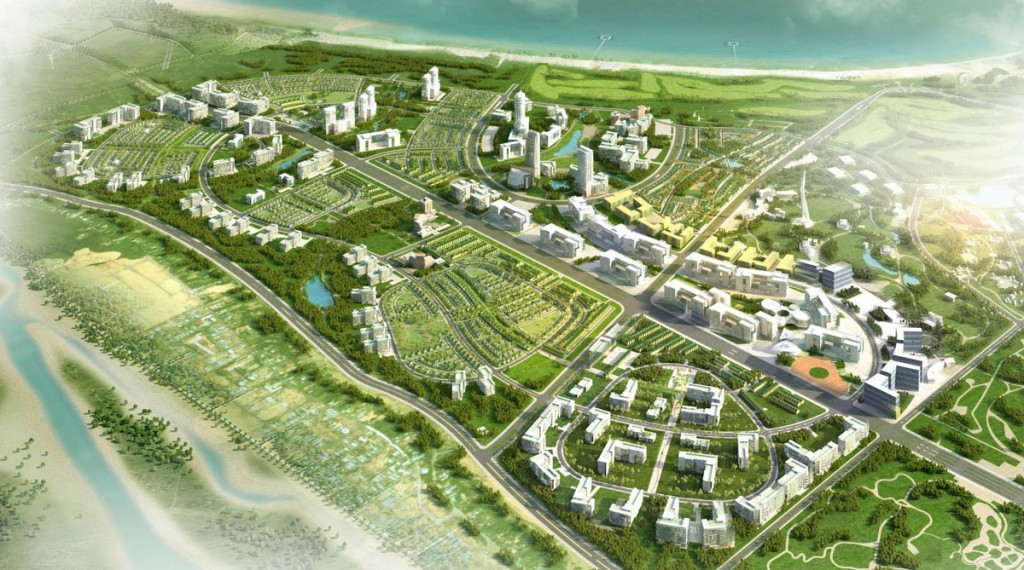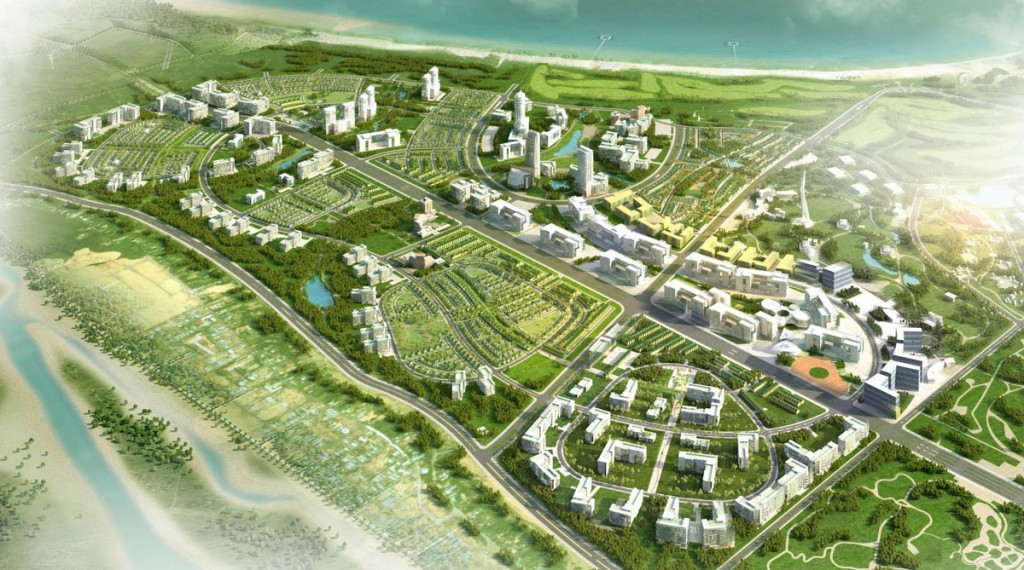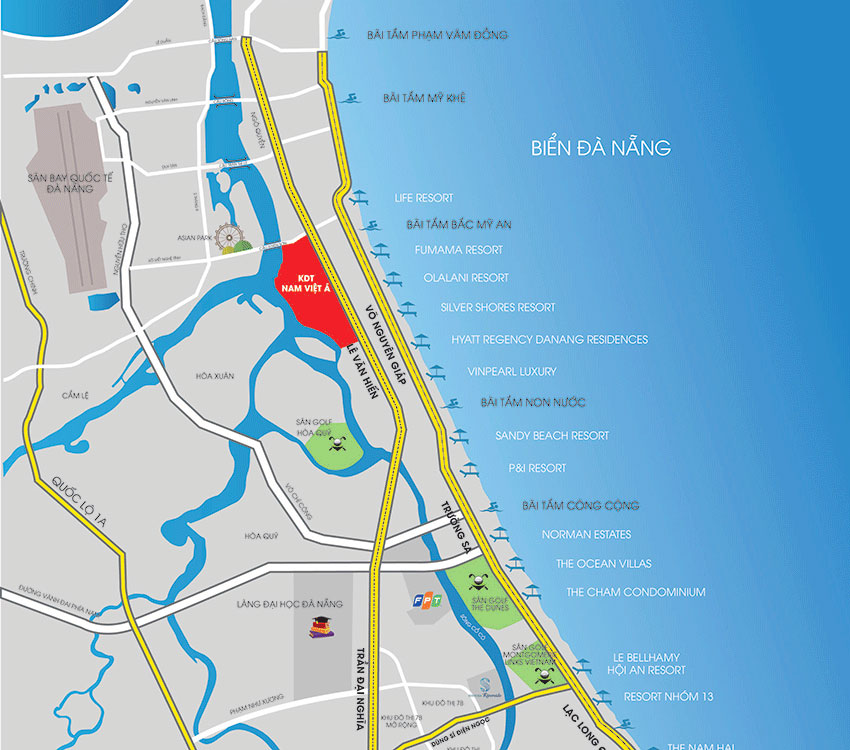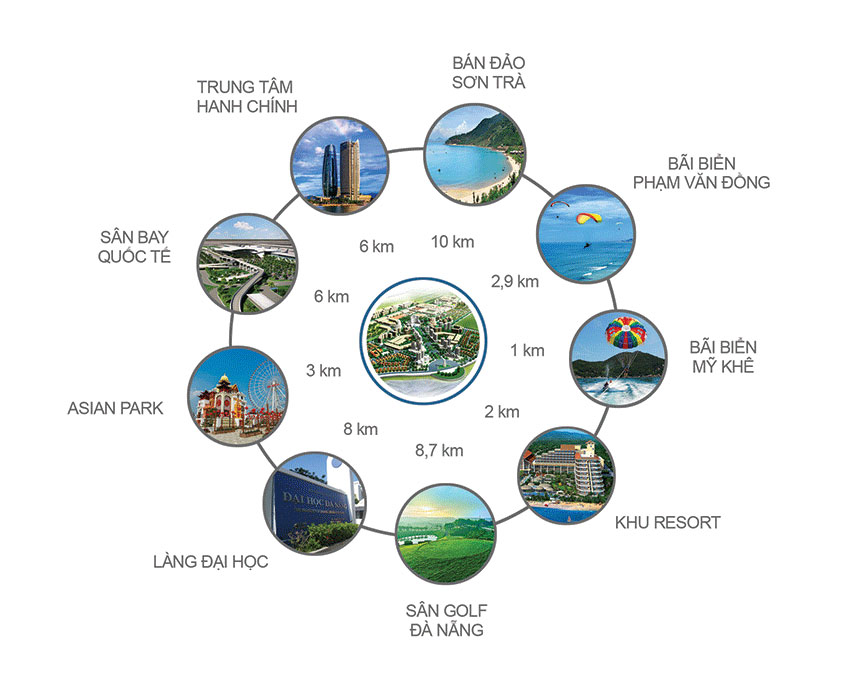 LOCATION:
Eco-urban area South of Tuyen Son Bridge (Nam Viet A), Khue My Ward – Ngu Hanh Son District – Da Nang City.

MODERN DESIGN
With a location near the center and enjoying a fresh and cool atmosphere, it is only less than 400m from the sea. South Vietnam Asia converges all the ideal factors to build a river city associated with ecological landscape environment.
Along with that is a modern design, with all roads of 7m5 or more, an acoustic system, a luxurious marina, alternating green parks creating beautiful landscapes and a series of restoration works. travel service
Public works serving the daily needs of people (kindergartens, kindergartens, schools, markets, amusement and entertainment facilities, floating restaurants, hotels, near 600-bed Children's Hospital…
Especially with 3 large complexes invested by the Korean side, it will be a "highlight" for Nam Viet A urban area.
Satisfying the needs of modern life and relaxation of the people and creating a destination for tourists to visit and entertain Da Nang in general and Nam Viet A in particular.

 10%
 Discount Offers

18 Month
Bank Support

 10
Gift – Golden Tree

  5 Year
Free Management
UTILITIES
Is an expanded area in the city center, with full infrastructure as well as utility services. South Vietnam Asia will be the most ideal place to live, work and study. Convenient traffic location, diverse surrounding amenities, class-oriented planning towards the future, all will create the best support conditions for residents when living here.